JBS Faculty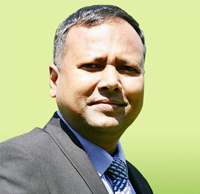 Name : Mr. Kalyan Samaddar
Qualifications : B.E - Mechanical, M.E. – Mechanical, MBA – Cranfield University, UK
Work Experience : 20 yrs in Leadership roles with Global MNCs such as KPMG, Singapore Changi Airport, ArcelorMittal, etc.
Research Interests : Operations Management, Supply Chain Management, People Management.
Read More +
Biography
Mr. Kalyan Samaddar brings in extensive industry knowledge of two decades from different parts of the globe and various sectors. He led 'Business Process Reengineering' consulting practice of KPMG Singapore serving MNC banks and National University of Singapore. Subsequently he served Singapore Changi Airport in managing the operations, project management and SCM functions for 7 years. After completing his MBA from Cranfield University in the UK, he joined ArcelorMittal, the largest steel maker of the world. In ArcelorMittal, he served as Director in managing the operations and supply chain functions. He was instrumental in severe cost optimisation drive in ArcelorMittal to make two plants profitable. He enjoys reading and sharing experience. In leisure time, he likes visiting places.