About the Programme
Educational Systems of today have to be more nimble, adaptable to the realities where students are equipped to venture in different directions and professionalize event faster. Constant re-skilling, re-training and up-skilling in the areas such as technology, innovative management, productivity and global issues is the order of the day.
- Roberto Azevedo, Chairman PepsiCo, Former Director General World Trade Organization.
If this is the expectation from managers of today, management educators ought to be a few steps ahead in order to successfully prepare future leaders. Today, industry is demanding managerial talent that is equipped with new-age capabilities and skills. After the pandemic, the design, content, and delivery of management education in the country has undergone comprehensive transformation.
This Faculty Development Program is designed to provide exposure to the participants on current developments in management education. The objective of the FDP is to upgrade and sharpen teaching abilities of management educators so that they are able to equip student managers with the skills and abilities to face the VUCA(Volatile, Uncertain, Complex and Ambiguous) world head-on and make a positive difference in contemporary organizations.
Tentative Programme Schedule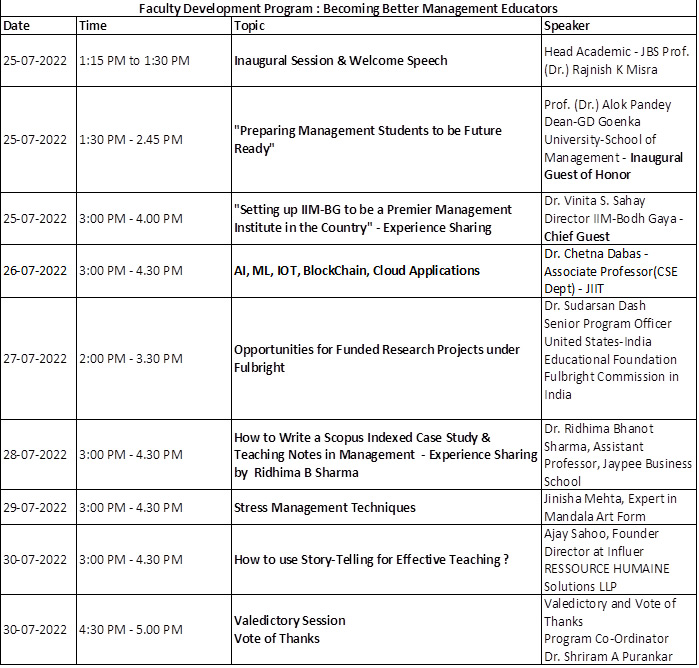 Who Should Attend
The programme is beneficial for faculty members and research scholars in academic institutions as well as executives working in research and consulting organization.
Resource Persons
The resource persons will be from both industry and academia.
Time and Venue
One week programme will be conducted on-line via Google Meet during 2nd half of the days on 25-30 July 2022.
Learning Outcomes
After attending the programme, participants will acquire:
Understanding the importance of continuously upgrading ones abilities to impart effective management education.
Familiarity with contemporary pedagogical techniques for becoming better management educators.
Knowledge about current technological landscape in which the current student managers will be working.
Stress management skills to be successful in this dynamic and disruptive world.