News
Alumni visit at JBS, July, 2016
Communicating with the Alumni is a great step towards building strong Alumni relations and benefiting current students. A few of the JBS alumni visited the campus today and gave advice to students regarding the skills required in the industry. They also expressed how JBS proved to be a turning point in their lives.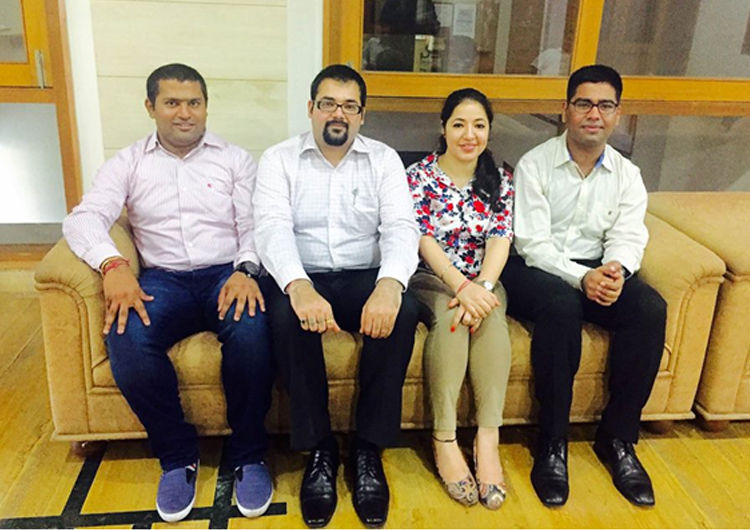 Alumni Speak@JBS - Pandit Shravan Kokroo-Pioneer Batch 2007-2009
Shravan Kokroo works as head of marketing at Tresor Systems Private Ltd(Apple Premium Reseller). With his efforts Tresor has been a pioneer in the loyalty program in the Apple ecosystem in India and been awarded many times for quality audits and customer service.
After graduating he got campus placed with Jaypee Group and since then has served in the marketing communications portfolio with various companies. In his previous assignment he served as Director, Strategic Partnerships with Love Care Foundation.
He says content creation is the key to success in this digital era. Two valuable advice that he gave to JBS students are: First, building relationships is of key importance during your college years, it may lead to a career transition for you. Second, never say no to knowledge intake, as more the knowledge intake the stronger you become to meet the rising industry expectations.
Alumni Speak@JBS- @Shushank Ravi Arora
Shashank Ravi Arora works with Wipro Technologies as an associate consultant. He implements HRIS and HRMS systems for the company's clients. He advises students to listen to their faculty to accomplish goals. He further adds, success is a function of both smart work and hard work. Work is important to do as it takes us to the next level of success, so do hard work which is done smartly.
Alumni Speak@JBS- Neha Arora
Neha works with HCL Technologies in Infrastructure division. She says, "I was an extremely shy person and was never on time, JBS has not only turned me into an ambivert and a confident person but also has made me more disciplined and punctual in life." Having gained experienced in the industry, Neha advises aspiring managers to not to restrict themselves to a particular domain. "There are no silos in business, you should have a holistic approach to work," she adds.
Alumni Speak@JBS- Smarth Kakkar
JBS Alumni, Smarth is one of the co-founders of Epic Ventures, a company that is into content creation and has served many fortune listed companies. After graduating, Smarth worked for Techlive Connect for a year and then joined Redington India where he was promoted twice in a span of 5 months. Smarth says, success of his life has been pillared by JBS. He further adds that JBS has taught him the art of communication- "how to talk, what to talk and how much to talk."