Hon. Chancellor's Profile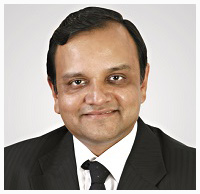 EXECUTIVE CHAIRMAN, JAIPRAKASH ASSOCIATES LIMITED
Mr. Manoj Gaur, Executive Chairman of Jaiprakash Associates Limited, the flagship company of Jaypee Group is a distinguished alumnus from BITS Pilani. After completing his B.E (Hons.) degree in Civil Engineering, he joined the company during the construction of Jaiprakash Associates Ltd.'s first Cement Plant - 1 MTPA at Rewa (Madhya Pradesh). He has closely been associated with the cement business of the company and has the distinction of participating in various capacities over the years and leading this line of business as it grew from 1.0 million tonne per annum MnTPA ) in 1986 to 41.4 MnTPA in 2012. Mr. Gaur has been associated with setting up of Group's hydropower assets since 2000. He ensured that Jaypee Group emerges as a leader in the construction of multi-purpose river valley and hydropower projects by participating on EPC/CONTRACT/BOO BASIS to add 12,030MW to the Nation since 2002. The Jaypee Group, a pioneer in creation of hydropower plants in the private sector and is presently in development/operations of 5,940 MW power of hydro/thermal projects in India and Bhutan.
Mr. Gaur has been widely acclaimed for invigorating Group's financials including innovative financing, which had a salutary effect in the growth chalked out in the last decade by the Group in its all verticals viz. Engineering & Construction, Power, Cement , Real Estate, Expressways, Hospitality, Health Care and Education ( not- for- profit). Coming from a humble background following footsteps of his illustrious father Sh. Jaiprakash Gaur Ji, he has shown immaculate appetite to imbibe the humane aspects of Founder of the Group and is leading the JAYPEE Group from December, 2006 . At Jaypee Greens , Greater Noida , Mr. Manoj Gaur has crafted an exclusive lifestyle for his clients that is at par with the best residential spaces in the world. It is under Mr. Manoj Gaur's leadership that the Group made strides in various fields and executed path-breaking projects such as the ambitious 165 Km long concrete Noida to Agra ,Yamuna Expressway, 1000 MW Karcham –Wangtoo Hydroelectric project and F1 Indian Grand Prix.
He carries on the philanthropic work undertaken by the Group's 'Not-for-Profit - JAIPRAKASH SEWA SANSTHAN' with as much fervor and passion that he has when he works on his business strategies. In addition to the above, not only does he play a leading role in the business of the Group but has been instrumental in planning and execution of the social responsibility initiatives in the area of education and rural development programs for villages surrounding Group's various project sites. It was his efforts that "Sardar Patel Uchchatar Madhyamik Vidyalaya", Rewa, M.P., which has been dedicated to provide quality education to the children of economically deprived sections of the society, was established.