JBS Faculty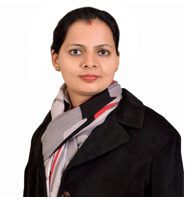 Name : Dr. Mitushi Singh
Research Interests : Sustainable HR, HR Analytics, Workplace Spirituality.
Read More +
Biography
Biography:
Dr Mitushi Singh has completed her Ph.D in HR from FMS, BHU. Her Ph.D thesis was titled A study of HR Practices in Indian Retail Industry".
Currently Dr. Mitushi Singh is Assistant Professor(Senior Grade) at JBS. She has 7.5 years of work experience in academics. Prior to this assignment she has worked with Amity University, Noida.
Publications:
"Personality and employee happiness: A study of working women in Delhi/NCR", Indian Association of Health, Research and Welfare, 2015, Volume 6 : Issue 2,pp143-147 10)
"Corporate Accountability to Employees: Exploring the Subtle Relation with Employee Well Being", SKN Sinhgad Business School , KortiPandharpur. July 2013, Vol. 1, Issue 2, pp 68-73 11)
"Impact of Students Towards Social Media Use in Education on Their Academic Performance": AIMA Management Review, Volume 10 Issue2/4, Article No.6, pp 6-9, May 2016 2
"Impact of Organizational Politics on Employee Job Performance", International Journal of Advance and Innovative Research, Volume 4 , Issue 2 : April – June 2017, Peer Reviewed Thomson Reuters pp 09-14 13)
Perfectionism and Employee Engagement among Management Faculty: An Empirical Study- Purushartha, Vol, XI, No.2, September 2018 February2019,(Scopus Indexed), ISSN-0975-2456-1371
Sustainable Human Resource Management: A Theoretical Perspective International Journal of Advance and Innovative research, Vol. 6, Issue 1(II), ISSN 2394-7780, January –March 2019Impact factor-7.36, UGC listed.
Competency mapping – A strategic perspective in employee retention, International Journal of Recent Technology & Engineering, July 2019 (SCOPUS-Indexed), ISSN-2277 – 3878
Conferences Attended:
(2012)International Conference on Finance and Business Management, Paper Entitled "Recruitment and Selection In Indian Retail Industry" Published in Conference Proceedings, pg 42, A Handbook of Finance and Business Management, ISBN: 978-93-81212-28-8, Bharti Publications
(2014)International Conference on Psychology and Allied Sciences.
(2016) 10th AIMA National Conference.
(2017) International Conference GLOBUSS 2017.
(2018) International Conference on Alchemy of Leadership for Innovation and Sustainability. by SMS Varanasi.
(2018) 2nd International Conference on Entrepreneurship, Innovation and Leadership,2018 organized by Amity University, Noida on 19th-21st December,2018
(2019) HR Conclave: 2.0 "HR Transform: The Future of Human Resource on 9th February, 2019 at Lloyd Business School, Greater Noida
(2019) International Conference on Entrepreneur, Entrepreneurship & Entrepreneurial Ecosystem.
Achievements
Won Best Paper Research Award Best Paper Award "Impact of Students Attitudes towards Social Media Use in Education On their Academic Performance, at 10th National Conference at AIMA, 29/03/2016.
Team member involved in India Today Ranking for Best Colleges for BBA in 2018 and 2019.
Organized workshop on NLP by Mr. Siddhartha Sharma, March 2019.
Executive/Faculty Development Program Attended
Participated in "Executive Development Program" on "Customer Relationship Management in Financial Sector "organized by 'Faculty of Management Studies, BHU' Varanasi on February 2nd 2008.
Participated in "Faculty Development Program" on "Research Methods & Statistical Analysis", organized by Apeejay School of Management, New Delhi on May 2nd 2008.
Participated in "Faculty Development Program" on "Hands on Workshop in Data Analysis using SPSS", organized by Apeejay School of Management, New Delhi on May 3rd 2008.
Participated in "Faculty Development Program" on "Teaching Methodology and Analysis of Data through Data Analysis Software organized by ITS Ghaziabad, from July 6th -July 18th 2009.
Attended Two Weeks FDP in Hands on Workshop on SPSS and AMOS, JIMS Kalkaji May 2017.