JBS Faculty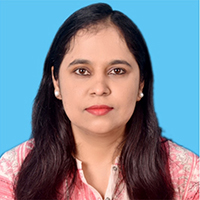 Name : Dr. Arshi Barin
Qualifications : Phd (Accounts) , M.com, B. Com (Hons)
Read More +
Biography
Biography
Dr Arshi Barin has completed her Phd in accounts from Jamia Millia Islamia. Her thesis was titled, "Corporate Sustainability Reporting Practices in Select Indian Companies: Accounting and Auditing Perspective". She has done her masters degree in M.Com from Jamia Millia Islamia and bachelor's degree in B.Com (hons) from Kamala Nehru College, Delhi university. She is presently working as an Assistant Professor in Jaypee Business School, JIIT University, Noida.
Publications
Integrated reporting practices in select Indian petroleum company- An Analysis, EPRA International Journal of Economic and Business review, (2016)
Impact of IFRS on revenue recognition, International Journal of Research in Computer Application and Management (2017)
Encompassing Environmental Needs into CSR and its Implications, International Journal of Development Research (2017)
CSR Reporting Practices: The case of Hospitality Industry of India, Researchers world-
Journal of Arts, Science and commerce (2017)
Papers Presented in Conferences
Paper titled "Environmental Accounting: A Study of select Indian companies" in National Conference on Emerging challenges and opportunities in business and economic environment held in Zakir Hussain College, New Delhi on 3rd and 4th November 2015.
Paper titled "IIR Framework and Integrated Reporting: A case study of select Indian Companies" in 38th All India Accounting Conference and International Seminar on Accounting Education and Research held in Chandigarh on 5-6 Dec 2015
Paper titled "Integrated reporting practices in select Indian petroleum company- An Analysis" in 7th International conference on Excellence in Research and education held at IIM, Indore during 5th-8th May 2016.
Paper titled "CSR Reporting Practices in the Hospitality Industry of India: A study of top listed hotel companies in India" in 69th All India Commerce Conference held in Lucknow from 11th to 13th November 2016
Paper titled "Impact and implications of IFRS on revenue recognition" in 39th All India Accounting Conference and International Seminar on Accounting Education and Research held at Chandigarh on 16th and 17th Dec 2016
Paper titled "Corporate sustainability reporting and disclosure practices in India- A study of select Indian Companies" in 70th All India Commerce Conference held in Jaipur from 12-14 October 2017
Paper titled "Corporate sustainability disclosure practices in India- A crtitical analysis" in 40th All India accounting Conference and International seminar on accounting education and research held at Udaipur on 18-19 November ,2017
Paper titled "Corporate Sustainability reporting practices in select Indian Companies: A study" in 71st All India Commerce Conference held in Hyderabad from 20-22 December 2018
Workshop and Faculty Development Program Attended
Diploma in IFRS
Participated in FDP on Goods and service tax (GST)
Participated in workshop on "Application of spreadsheets in Financial Management"
Attended FDP on "Computerized Accounting using Tally.ERP 9"
Attended workshop on "E- Filing of Income Tax Returns"