JBS Faculty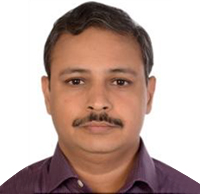 Name : Dr. Vishal Gupta
Qualifications : PhD, Sustainable Supply Chain Management. Certified Project Management Professional (PMP from PMI, USA) MBA Information Systems(University of Lucknow). UGC NET in Management
Work Experience : 18 Years (10 Years in Corporate, 8 years in academics)
Research Interests : Information Technology, ERP Implementations, Business Process Re-engineering, Change Management, Supply Chain Management, Project Management, Operations Management
Read More +
Biography
Dr. Gupta did his MBA (Information Systems) from University of Lucknow (LUMBA) in year 2000. He has worked with various organizations viz. Plasma Computing, IFS Solutions, Headstrong Services etc. as Implementation Manager and Domain Consultant. His skill and experience is in the area of ERP implementation, Project Management, Domain Consultancy, and Information Technology. He is a certified Project Management Professional (PMP from PMI, USA).
He has worked on multiple end-to-end ERP implementation sites in India and abroad. He has conducted trainings in the project management processes, as a part of PMO.
He has successfully conducted an MDP on Supply Chain Management on 4th April 2016 at IMS Ghaziabad. The MDP was well attended by corporate delegates from 21 organizations. He was also an organizing Member of International Conference on Corporate Governance: Retrospect and Prospects on February 11-12, 2017 at Hotel Radisson Blu, Kaushambi, Delhi-NCR.
He is UGC Net certified in Management and has earned his PhD on the topic "A Sustainable Supply Chain Management Framework for IT Products: an exploratory study" in year 2015.
Publications:
Papers In Refereed International Journals:
Vishal Gupta, Naseem Abidi, Exploring Factors affecting Supply Chain of IT Products: A Retailer's Perspective, Procedia Computer Science, Volume 122, 2017, Pages 969-976, ISSN 1877-0509 (An Scopus Indexed refereed international journal published by ELSEVIER)
Abidi, N., Bandyopadhayay, A. & Gupta, V., 2017. Sustainable Supply Chain Management: A Three Dimensional Framework and Performance Metric for Indian IT Product Companies. International Journal of Information Systems and Supply Chain Management, 10(1), pp.29-52. (An Scopus Indexed refereed international journal)
Gupta, V., et al - A Three Dimensional Framework, Journal of Management Research, vol. 5, no. 4, pp. 76-97, Macrothink Institute, Las Vegas, Nevada 89108, USA. (Indexed in Proquest)
Papers In Refereed International Journals:
Gupta, V., Abidi, N., Bansal, T. and Jain, R.K. (2013) Green Supply Chain Management Initiatives by IT Companies in India, The IUP Journal of Operations Management, vol. XII, no. 2, pp. 6-24. (Indexed in EBSCO & Proquest)
Gupta, V. et al, (2013) 'Framework for Managing Innovations in Supply Chains of ICT Products', International Journal Of Innovative Research And Development, vol. 2, no. 12, pp. 160-66.
Papers In Conference Proceedings:
6. Gupta, V., & Nandan, S. Framework for Social Sustainability in Supply Chains, International Conference on Corporate Governance: Retrospect and Prospect, Ghaziabad, 2017